Giglio Island
Giglio Island: information and tips about Giglio Island, beaches, coasts, sea and tourist destination for your holidays in Giglio Island.
Information & Tips about Giglio Island:
As far as its extent is concerned, Giglio island is the second Island of the Tuscan Archipelago and one of the most suggestive and charming places of the whole region, attracting every year lots of tourists captivated by its crystal clear sea and its marvellous beaches. As for the latter, the largest ones – such as Campese, Arenella, Caldane and Cannelle – are well-equipped with all services and you can even rent beach umbrellas and deckchairs; however, there are also free-access zones, above all small beaches and coves that often can be reached only through narrow paths where you can only walk, or by boat.
The water washing the Giglio island are very clear, ideals to play under water sports and to explore its rocky seafloors, inshore or offshore. During immersions you can easily happen to meet a great variety of fish that usually populate these waters together with sponges and anemones that colour the rocks. At this regard, we recommend you to visit the Punta delle Secche and Punta del Capel Rosso that are very suggestive. Furthermore, you can also do snorkelling and game fishing from the coast or onboard.
Moreover, Giglio island is full of paths for those who like excursions: these pathways, sometimes very challenging, sometimes suitable for those who are not expert, give you the chance to have a deeper knowledge of this unpolluted territory, made up of pinewoods and Mediterranean Maquis.
At night, one of the most populated place is Giglio Castello, where you can find most of the services such as bars, restaurants and wine bars; Giglio Porto is also full of life as it is possible to walk along the seaside promenade looking around the little shops open till late at night.
Image Giglio Island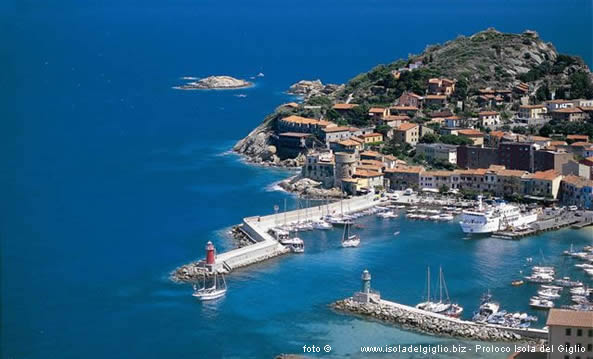 Where is Giglio Island